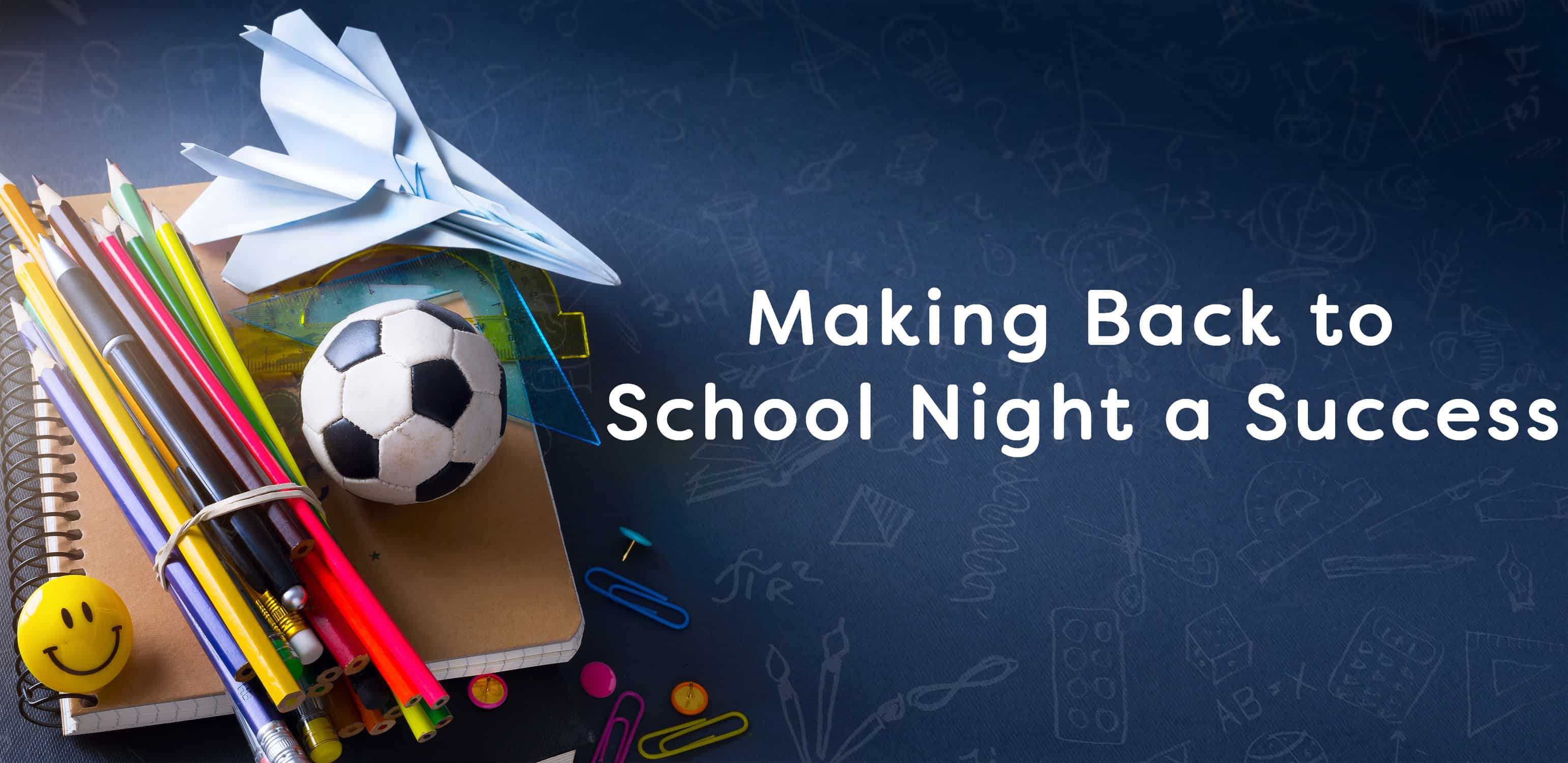 Back to school night. Every school has one and every teacher dreads them. However, back to school night is the perfect opportunity to open up your classroom doors to the parents/guardians of your prospective students. It's a time to share the curriculum you will be teaching this year, the rules you have for your classroom, and your vision as a teacher. It gives the parents/guardians a chance to see what happens day-day for their child. And starts to build the relationship you will have with the families of your students.  
As a veteran teacher, back to school night is just a routine in the program. They have perfected their spiel. Nailed down the perfect presentation that hits all the "need to know points." And found a creative way to get those parents/guardians out the door prior to the end of the night. 
First year teachers can view back to school night as an overwhelming experience. The process can be as anxiety ridden as a kid on their way to the principal's office. It can be confusing figuring out where to start, what to talk about, and how to manage the overall night.
For those new teachers, or those simply looking to change it up, we have some tips and tricks for you that are guaranteed to help make the night a total success. 
Preparing for the night ahead 
It is my personal belief that on back to school night it is important to put your best foot forward. This includes dressing your best for the occasion. You do not need to wear your three-piece suit, but you should dress professionally. Dressing your best helps boost your confidence and give credibility to what you are talking about. It also may be the first impression parents/guardians receive of you. So, you want to make it a good one. 
In preparation for the night, design and send out invitations to parents/guardians with a planned itinerary. This fun form of communication encourages attendance and can highlight some of the topics you plan to discuss. With the determined itinerary set, the parents/guardians can be prepared for the night ahead and its start-end time.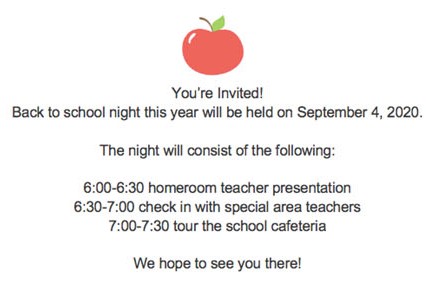 Start the night out with a walk around the room 
Like any good party host, give your guests the grand tour! Create an environment that encourages parent/guardians to walk around the room. If your school does not have a meet the teacher night (when families can bring in school supplies) use back to school night as that opportunity. Highlight different areas of the classroom by placing labeled bins or baskets in areas around the space for supply drop off. For example, place a bin in the library and encourage parents to take a peek at some of the on-level text their child may be reading this year. Opening your classroom up in this manner can be an indicator of the type of communicator you are. Display an attitude of open communication as it helps parent/guardians feel welcome when they enter the room again in the future to volunteer, or during conference time.  
Time for the presentation 
If you do nothing else after reading this post, please at least create a PowerPoint or handouts for your upcoming back to school night. Handouts and PowerPoint's act as a tool for talking points. Keeping you on track and focused on the crucial information of the night. And they are a future resource for any questions or conflict that may arise further into the year. I make sure to keep a copy of the handouts or PowerPoint's I present. I send them home with those parents/guardians who were unable to attend. And resend them again mid-year, just as a refresher. Teachers Pay Teachers has an assortment of templates you can choose from to get you started. Here is a short list of what to include in your PowerPoint or handout: 
Brief information about yourself (education, interests, family life)

 

Synopsis of the 

year's

 curriculum (basic skills, benchmarks, testing forms)

 

Day to Day schedule (lunch, specials, dismissal)

 

Rules and routines inside the classroom (management system)

 

Ways to get in contact (how to reach you)

 
Remember to check out our shop on Teachers Pay Teachers. Every teacher needs three emergency lesson plans, and we've got you covered. And head over to our website to browse all of our other affordable lesson plans while you're at it.  
Questions and comments? Leave them on the index card provided
 Maybe the most important tip I can give is to hand out index cards for parents/guardians to write on during or after your presentation. Many times, parents will use back to school night as an opportunity to ask you personalized questions about their child. Instead of spending half the night dodging these conversations with political lines such as "we can discuss that at a later date." Encourage them to write down any specific questions about what is being discussed on the provided index card. Have them include the best way to get in contact with them. Make this option known in the beginning of the night and remind parents/guardians of this throughout your presentation. The question and comment card allow for the parents/guardians to feel included in the night's presentation, acknowledges their concerns, and prevents a night of isolation with you and individualized questions. 
I invite you to enjoy some refreshments as you tour the rest of the building 
Food is the route of all happiness. The best way to bring a group together is through food. It can be an ice breaker and a warm welcome into the classroom. Believe it or not some parents/guardians are not thrilled about having to come out to back to school night. Making the environment enjoyable for all will help the night feel like a success. Refreshments are a great tactic to get parents/guardians out of the door on time. Who wouldn't want to tour the school with a yummy donut in their hand?  
Above all else try to enjoy yourself 
Back to School night can be overwhelming and for any teacher. It can cause stress and anxiety to ensue. The thing to remember is that back to school night is really a chance for the parents/guardians to see you and hear what you are all about. It is your classroom, you have worked hard to be there, and you are a great teacher. Make sure they understand you are a professional whose focus is on helping their child succeed. Following these tips and tricks will help any teacher (new or veteran) run a successful back to school night; setting a positive tone for the relationships you build with your students' families. Prepare, practice, and enjoy the night.  
For further insight on how to set the tone for the beginning of the school year check out some of our previous posts on what you can do to make this year a success.